Things to do in Gardiner, Yellowstone National Park & Grand Teton National Park
Yellowstone Raft Company

The First, In the Last Best Place.
Yellowstone Raft Company has been taking families and friends through the Yellowstone River's exhilarating whitewater rapids since 1978. We were the first raft company to take trips down this wild Montana river, and for over 40 years, we have been your first choice.
Over 40 years ago, Est. 1978, we pioneered floating the Yellowstone River.
We're one of the only rafting companies with permits from both the National Park Service and the U.S. Forest Service.
Make your Yellowstone vacation more memorable!
With an experience, people consistently tell us is the highlight of their trip to Montana and Yellowstone, you'll be sure to leave with a smile on your face!
Connect with family and friends as you paddle together.
See the beautiful canyons and mountains surrounding Yellowstone from a unique angle.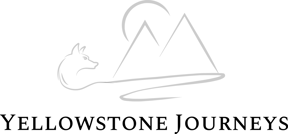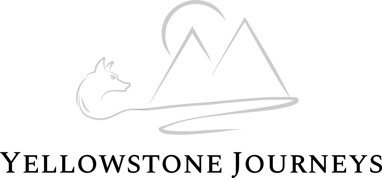 Yellowstone Journeys offers trips in and around Yellowstone National Park. We provide high quality equipment, a comfortable vehicle, and a local guide to ensure your trip is truly spectacular. Our guide has years of experience and grew up with Yellowstone as his backyard. Our goal is to provide a unique and exciting journey every time we head into the park. Whether we are searching for wildlife, exploring the thermal basins and geysers, or taking a beautiful hike, our guide has you covered for a one of a kind Yellowstone experience.
Big Sky Ebike Tours & Rentals
Big Sky Ebike Tours was born in autumn 2019, when the National Park System began to allow ebikes into Yellowstone and their other parks. Based in Gardiner, MT, right at the North Gate to Yellowstone and a short distance from great trails and sights.
We're experienced tour guides and love to share Yellowstone's wilderness and natural beauty with others. Whether you're looking for an adventure to a soaring waterfall or a bike ride into Yankee Jim Canyon, we'd be honored to be your guide.
We offer the RadRover model ebike, which is a wonderful ebike thanks to its durability, features, ease-of-use and range.
We maintain all our equipment so you know that you will be able to ride safely and with confidence. We will make sure that the bike is fully adjusted to match your frame so you can hit the road and start having fun.
Ready to take off on your own adventure? Rent one of our ebikes and start exploring the beautiful outdoors. Our ebikes are low impact, easy for everyone to use and have a long range so you can experience the best of what Yellowstone has to offer.
See all that North Yellowstone has to offer with a guided tour from the seat of an E-Bike! Join one of our experienced tour guides that will take you on the road less traveled.
Hell's A-Roarin' Outfitters
Summer Adventures near Yellowstone National Park
Hell's A-Roarin' Outfitters is located in Jardine, Montana (adjacent to Gardiner, MT) and has been entertaining guests in the backcountry of Yellowstone Park and the Absaroka Wilderness for over 30 years. We have the art of 'rustic hospitality' mastered. The scenery and wildlife are not to be surpassed, anywhere on earth, as far as we are concerned! We offer you incredible memories, when you ride with us!
Hunting Outfitters near Yellowstone Park
Hell's A-Roarin' Outfitters has become a yearly tradition for many hunters seeking trophy-worthy game and adventure. Any guest of Hell's A-Roarin' Outfitters can attest to an outdoor experience that will result in a lifetime memorable event, both to individuals and families alike. Newcomers to Hell's A-Roarin' Outfitters may find the experience so remarkable, that they too may make this an annual retreat or vacation.


Parks' Fly Shop is a fly shop and fly-fishing guide service located in Gardiner, Montana, at Yellowstone Park's north entrance. Our no-frills fly shop carries everything visiting anglers need to enjoy fly fishing the Yellowstone region, including one of the largest selections of custom and local flies for the Yellowstone area of any Yellowstone fly shop, rental tackle, maps, bear spray, and fly-tying materials.
Through our fly-fishing guide service, we offer walk-wade and hike-in Yellowstone fly fishing trips in the northern and western portions of the park and drift boat and raft Montana fly fishing trips floating on the Yellowstone, Boulder, Madison, and other rivers in southwest Montana. We also run guided trips on several excellent private waters. We guide clients of all skill levels and can handle parties of up to 12 anglers, provided we have sufficient notice.
During the winter, we partially transform into a cross country ski and snowshoe shop, offering Yellowstone Park ski and snowshoe rentals, though we can always sell you the right flies or book you a guide for winter fishing trips in Montana.
The Montana Awareness, Education and Equine Rehab Association


EDUCATIONAL, EQUINE AND WILDERNESS EXPERIENCES IN MONTANA.
M.A.E.R.A. specializes in offering integral supportive education programs, horse and wilderness classes/camps to help support students and families in Montana. We provide everything from supportive education programs, vocational skills classes, trail rides, back country trips, riding lessons, camps and classes. We currently lease a portion of Sky Horse Ranch's amazing property in Paradise Valley Montana as well as have our afterschool program in town! Give us a call for a tour! 406-579-1596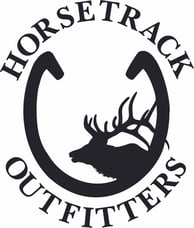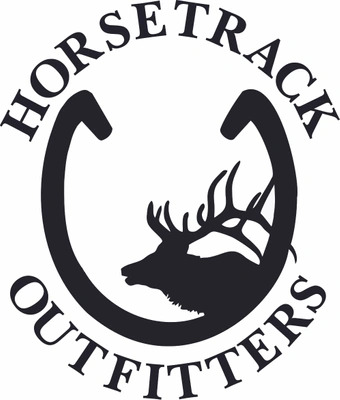 We are a family-owned business and are both lifetime residents of Montana. We operate out of Gardiner, MT which is the north entrance into Yellowstone National Park. We look forward to taking you and your party on a one-of-a-kind back country experience and are more than happy to cater to your individual needs and special requests.
Jardine Retreat is owned and operated by Jardine native, Zondra Skertich. Zondra has been a massage therapist for 18 years, and currently has massage therapy locations in both Gardiner and Jardine.
Massage by Zondra
15-minute chair massage: $20

60-minute table massage: $80

90-minute table massage: $120

Call: (406) 220-2201 (texting preferred) to schedule your massage.
Extreme Performance Archery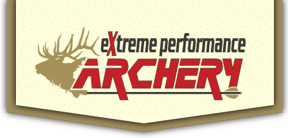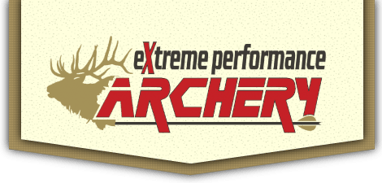 We are excited to bring the passion of archery back to Bozeman.
We are striving to bring a new level of customer service yet to be experienced in the valley. Whether fixing an older bow, or purchasing a new one, your satisfaction is guaranteed! XPA experienced staff will show you what it is to be professionally fitted to your bow. No matter the trophy you're after, whether it's first place at the big tournament or a bugling bull in the mountains, let our certified instructors help you reach your goals.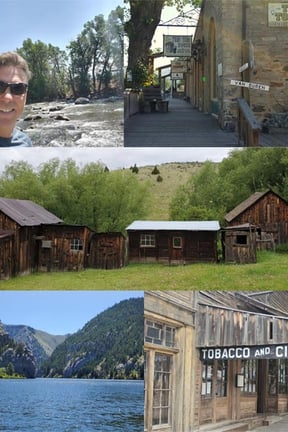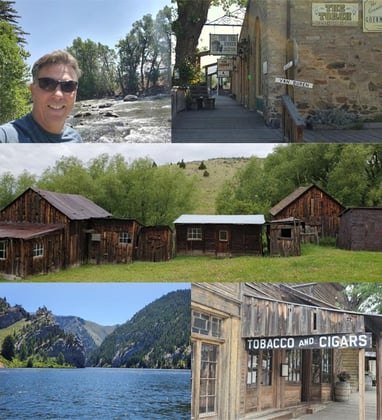 Montana is truly Big Sky Country. Spend your Montana vacation with us, and you'll see picturesque mountains, spectacular buttes & landscapes, and experience Montana's rich & exciting history. It will be a once-in-a-lifetime experience you'll never forget.
Join us this summer for two unique and special tours. We'll be visiting Virginia City, MT, a historic gold mining town preserved in time. We'll also follow the path of Lewis & Clark by taking a boat ride through the scenic Gates of the Mountains.
We also offer private tours. If you don't like to travel with big groups, we can customize a tour for you and up to three other people to see many of the places offered in our bus tours. Private historical tours are all hosted by author David Wooten.
Our Summer Weekend Tours Are Hosted By Dave Wooten. Known throughout southwest Montana for his morning radio show, Dave started Front Seat Tours because of his love of history and seeing new places. In addition to radio and being the inspiration behind Front Seat Tours, Dave is also a writer of several books, including his latest, Crazy Horse: Where My Dead Lie Buried.
Dave will be your guide and host for both of our one-day summer tours to Virginia City & Gates of the Mountains. If you have any questions about the two summer tours we're offering, reach out to Dave personally at Dave@FrontSeatTours.com.
Lone Willow Creek Guide Service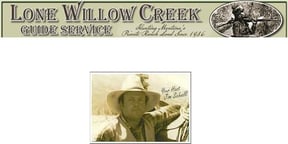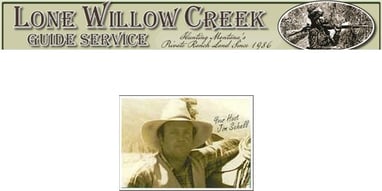 My name is Jim Schell, and I'm a licensed Montana elk hunting outfitter and guide.
I'm a firm believer in the success that can be found in hunting Montana's private ranch lands. The absence of public pressure and other outfitters consistently provides trophy quality animals. We offer rifle and archery hunts for elk on our new lease. This website represents and encompasses my 38-year professional hunting career in the state of Montana.
In addition to premium hunting, we also offer guided summer drift boat trips and fly-fishing for world-class trout on the Yellowstone River. Click the link below for our new fishing page.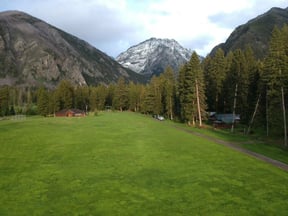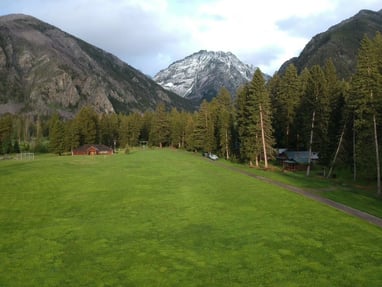 Luccock Park is an outstanding facility for all people to enjoy. Enjoy natures beauty as you hike up to a waterfall or lake!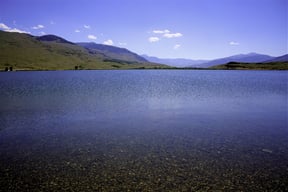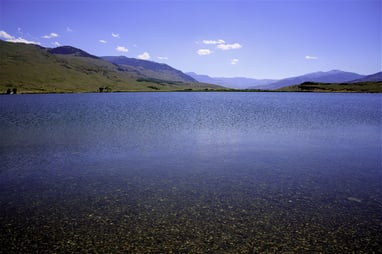 Dailey Lake Campground has 35 tent and trailer campsites, restrooms, and drinking water. A small fee is required. Fishing and boating may be enjoyed at Dailey Lake. Please limit your stay to 7 days. A disabled accessible fishing pier, boat dock and shade shelter are available. Existing ADA Level: Easy Accessibility.
Favorite Cross-Country Ski Trails In Gardiner And Northern Yellowstone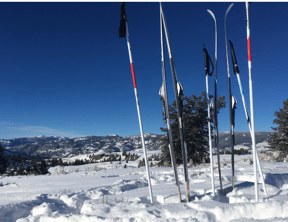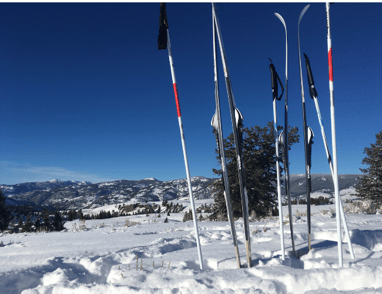 One of our favorite ways to experience Yellowstone Country is on a pair of cross-country skis. It's a fantastic way to get outside and enjoy time with family and friends while taking in the rugged scenic beauty of the Greater Yellowstone Ecosystem.
Check out a few of our favorite trails from Paradise Valley to Gardiner to northern Yellowstone National Park. And after a fun-filled day of skiing past sparkling snowy vistas, steamy thermal features, or even the occasional elk or bison, be sure to stop in to Gardiner for a cozy meal, warm bed, and a hot beverage!
Yellowstone National Park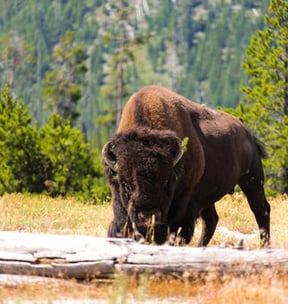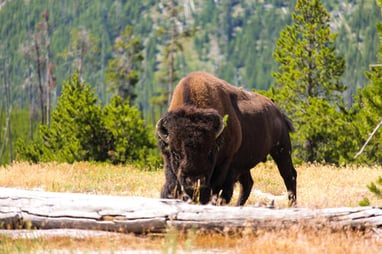 Yellowstone National Park - Places to see from the Gardiner, Montana North Entrance:
Mileage is from Little Trail Creek Cabins to destinations shown below
The Roosevelt Arch and Arch Park: 4 miles
As the gateway to Yellowstone, founded in 1872, U.S. President Theodore Roosevelt laid the cornerstone to the impressive and triumphal Roosevelt Arch. The 50-foot arch with a 30-foot-tall opening is supported by two 12-foot-wide columns and welcomes visitors to the Yellowstone frontier with the famous inscription: "For the Benefit and Enjoyment of the People." Arch Park is just a few steps away from the Roosevelt Arch and has a pavilion for a nice picnic.
Mammoth Hot Springs: 9 miles
Mammoth Hot Springs is where Yellowstone National Park headquarters reside, making it a great place to get information about the park. But you're likely to see bears, elk, bison, and more right in the town of Mammoth Hot Springs. And the namesake springs are gorgeous travertine terraces that will set the stage for everything else you see in Yellowstone.
Tower Falls: 29 miles
The north end of Yellowstone is well-known for hosting the most dramatic and inspiring waterfalls in the park. Tower Falls cascades down 132 feet in a geographically rich area with natural rock spires just off the Yellowstone River.
Norris Geyser Basin: 30 miles
At Norris Geyser Basin, you'll find some of the most dramatic and inspiring thermal features in Yellowstone. Walk along charming boardwalks through the aptly named Porcelain Basin. If you're lucky, you might catch an eruption of the tallest geyser in the park (300 feet), the recently reawakened Steamboat Geyser. See the hottest (280 degrees Fahrenheit) thermal feature in the park at Black Growler Steam Vent. Watch Ledge Geyser spew water 125 feet in the air. And see colorful springs like Whale's Mouth, Emerald Spring, Congress Pool, and more.
Canyon Village and Lower Falls of the Yellowstone: 42 miles
Canyon Village is host to the The Grand Canyon of the Yellowstone, an impressive canyon as much as 1,200 feet deep. The star attractions nearby include Artist's Point, wildlife-heavy Hayden Valley, Mt. Washburn, and the largest waterfall in Yellowstone: Lower Falls of the Yellowstone. The 308-foot waterfall can send as much as 63,500 gallons of water every second on the ride of its life. And that is a sight worth seeing.
Wildlife Watching in Lamar Valley: 42 miles
Lamar Valley is the most popular wildlife viewing area in all of Yellowstone. Wildlife watchers sometimes spend weeks there viewing wolves, grizzlies, black bears, pronghorn antelope, moose, elk, and more. This thriving ecosystem close to Gardiner hosts all the major wildlife people love to see.
Yellowstone Lake: 58 miles
The historic Lake Hotel, a colonial-style hotel built in 1891 and originally accepting visitors traveling by horse and carriage, adds personality to the pristine waters of Yellowstone Lake. Enjoy the fishing on the lake, take a boat ride, or otherwise enjoy the atmosphere at Yellowstone's largest lake and the biggest high-elevation lake in North America at 132 square miles.
Old Faithful Geyser Basin: 60 miles
The big one. Almost everyone who comes to Yellowstone wants to see Old Faithful spew heated water as much as 180 feet in the air on its predictable 60-to-90-minute eruption intervals. Don't want to wait around? Explore the boardwalks around the attached geyser basins and find other thermal treasures.
Awesome Day Hikes in Yellowstone National Park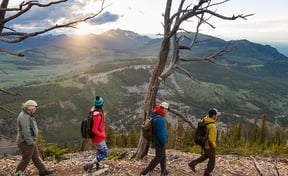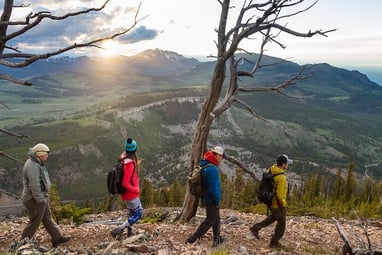 Most of Yellowstone National Park actually can't be seen from the road – 98% is off the beaten path. Yellowstone National Park covers more than 2.2 million acres with more than 900 miles of hiking trails in backcountry wilderness. Treks to stunning waterfalls, geyser basins, plunging canyons, and more await day-trippers. If you can't find a trail here, you can't find it anywhere. Stop by a ranger station or the visitor center for the latest information on the condition of trails. They may be closed. Ask about bear activity, weather, and fires in the area. No permit is required for day hiking in Yellowstone. Or check out the Backcountry Situation report. It's impossible to explore all the beauty Yellowstone hiking has to offer. It's hard to know where to begin when you hit the trails. So, we've identified 12 of the best hikes in Yellowstone, each with a charm and a challenge.
Grand Teton National Park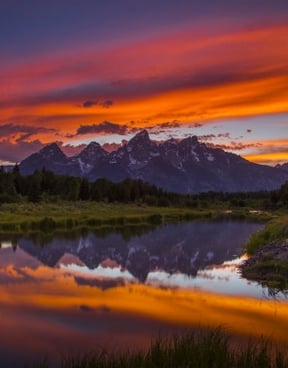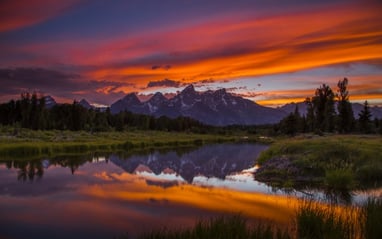 Mountains of the Imagination
Rising above a scene rich with extraordinary wildlife, pristine lakes, and alpine terrain, the Teton Range stands monument to the people who fought to protect it. These are mountains of the imagination. Mountains that led to the creation of Grand Teton National Park where you can explore over two hundred miles of trails, float the Snake River or enjoy the serenity of this remarkable place.
Participate in a Ranger Program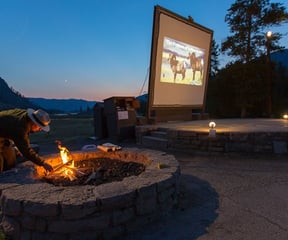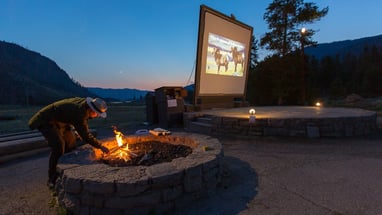 Important Note about the Summer Ranger Programs
Due to modified park operations for the summer season, there will not be any scheduled ranger programs. When visiting the park, please check at the local visitor center or message boards to see what activities are being offered.
One of the best ways to experience a national park is participating in a ranger program. Yellowstone National Park offers a variety of ranger programs throughout the park, and throughout the year. Check the calendar for specific program details.