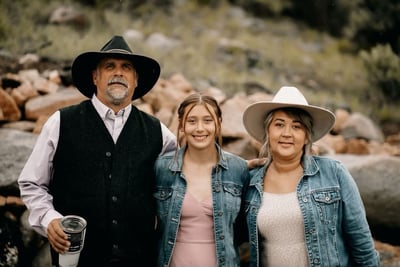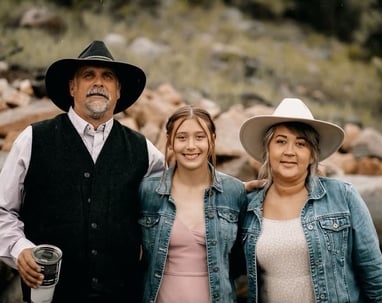 We live on site here at Little Trail Creek Cabins. Jim has lived in Gardiner for over 30 years. We are both very familiar with the the area and can assist you with recommendations ranging from activities to dining. We know what is happening in and around town. We want our guests to experience the best of the Gardiner Montana area, like a local!
By choosing to stay with us at Little Trail Creek Cabins you are supporting a local Mom and Pop Small Business and save you on the large corporations third party fees by booking directly though us.
We are situated on a 10 acre property that boarders Little Trail Creek. Our backyard is hundreds of thousands of public acres of land to explore and enjoy. It is only a 5 minute drive to Gardiner at the North Entrance to Yellowstone National Park. If you are coming out West to get away and experience nature, this is the place to be! Not in a town in a cookie cutter box.
Stay & Play Custom Package
For an additional fee, we can build you a custom Stay & Play Package!
For a truly stress free and relaxing vacation let us plan your trip. Just let us know which activities you are interested in, such as: horseback riding, llama experience, white water rafting, guided site seeing tours, fishing, zip lining, hiking, hot springs, massages, sip n paint, art workshop, catered meals and more! Just let us know and we will make all of the arrangements for you.
We offer binocular rental for $30 per day and spotting scope rental for $50 per day.

We provide a toy shack with indoor and outdoor activities for all ages.

Horseshoe pit.

Trampoline.

Creek.

We provide stroller, pack-n-play, kid carrier backpack and more.

We have a walker and wheelchair available for use.

All of our kitchens are very well stocked with everything that you will need. We provide numerous spices and condiments.

And much more!
Adults - $20
Children - $15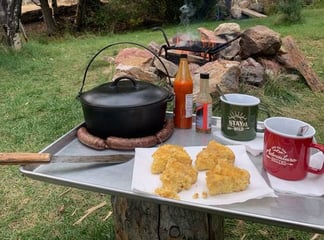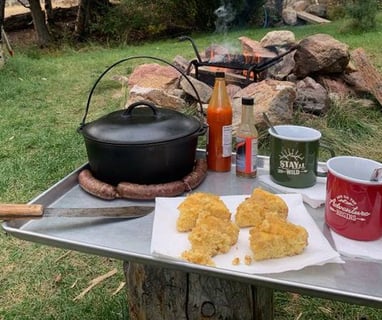 Sweet & slightly spicy ham & beans in a cast iron pot over the campfire. It is served with homemade cornbread and homemade creamed honey butter.
Or you can also choose a hot dog bar with many toppings available for cooking over the campfire.
We also have smores for dessert with a marshmallow bar featuring 12 types of marshmallows to choose from!
Take & Warm homemade Quiche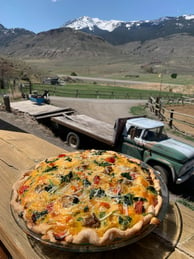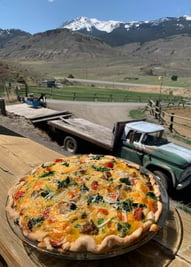 Do you want to get to the park early or just want to take the morning off? Then call to order a to go quiche. Just pick it up the night before.
The Westerner boast - Sausage, bacon, ham, bell peppers, onions, mushrooms and three cheeses.
The Spinach boast - Ham, onions, spinach and three cheeses.
Feeds 6
Call us for any special request.
Take & Bake homemade Cheesy Enchiladas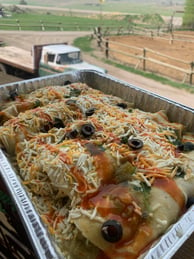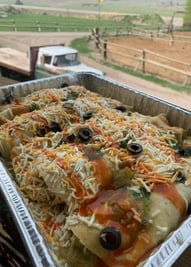 Do you want take an evening off? Then call to order a to go of our homemade cheesy chicken enchiladas in a green sauce. Just pick it up the night before.
9x13 pan feeds 6 to 8
Call us for any special request.
• Yellowstone In a Day- (to plan day trips).
• Photo History of Gardiner & Jardine MT.
• Yankee Jim's National Park Road.
• YNP Past & Present.
• Paradise Valley History Park County MT. History.
• National Geographic DVD's.
• YNP for kids.
• Who Pooped in the Park- scat identification.
• Animal Track Identification.
• 400 Years of Imaginary friends - written about the Church Universal Triumphant some refer to as a Cult.
• Prophet's Daughter.
• Montana Watering Holes.
• History of Montana.
• Ghost Towns of Montana.
• A few books on Charlie Russel.
• Hot springs of Montana
• Birds of Western Montana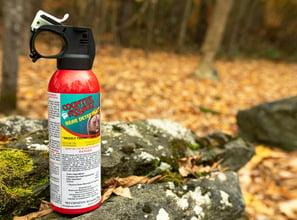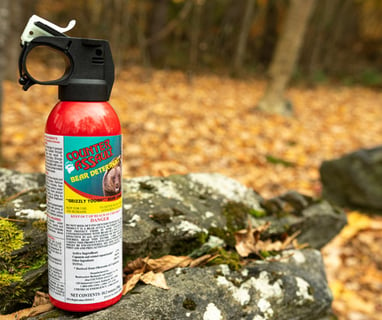 Each cabin has two cans of bear spray. If you are flying, bear spray is NOT allowed on any aircraft.
It is also highly recommended that you watch a YouTube video on how to correctly use bear spray.